Tulsa Pooper Scooper
I think most would agree that the least pleasant part of pet ownership is cleaning up after them. Not only is it a tedious chore at home, but it's also an unwelcome sight for your guests and neighbors.
We know that every pet owner wants their backyard to be safe, clean, and attractive. And now you can enjoy just that without lifting a finger by getting your very own Tulsa pooper scooper. And we aren't talking about some fancy shovel or disposal system, we're talking about The Poop Fairies!
We are a Tulsa-based company that offers professional pet waste removal services. We'll come to your home or business and take care of all the dirty work, so you don't have to worry about it.
Our team of professional Tulsa pooper scoopers is friendly, knowledgeable, and highly trained in pet waste management techniques. We do the job quickly, and efficiently and leave your yard looking like new. No more smelly messes, no more stepping in surprises; just peace of mind knowing it's all taken care of.
Services Provided By A Tulsa Pooper Scooper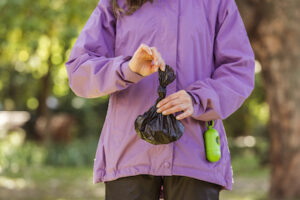 At The Poop Fairy, we provide several services to make sure your yard is always clean and mess-free. Our comprehensive Tulsa pooper scooper service includes:
Dog waste removal- We'll come to your residence or business and pick up all the pet waste from your lawn, decks, patios, etc.

Disposal- We will properly dispose of the waste according to all local codes and regulations.

Scheduled or one-time service packages- We offer both scheduled services as well as one-time cleanings for those special occasions.
No matter what your needs are, The Poop Fairy can help keep your yard looking great year-round. We are happy to accommodate any schedule and offer reasonable rates that fit comfortably into any budget.
We are the pooper scooper in Tulsa you can trust whether you just need a one-time pet waste removal or twice a week, we can handle it!
With the Poop Fairy, we can clean up dog waste from up to 4 dogs so it's okay if you're an animal lover! We offer both residential and commercial pet waste removal services, so no matter where you need us, we can help.
Benefits Of A Tulsa Pooper Scooper
When you hire a professional Tulsa pooper scooper for your pet waste needs, you get the satisfaction of a clean yard without stress. Not only is it a time-saver, but also an effective way to keep your lawn looking great and free from messy piles of dog poop.
Additionally, having a professionally maintained yard can help attract potential buyers if you're looking to sell or rent. And of course, it's a great way to show your neighbors and guests that you take pride in your home.
So don't hesitate to call when it comes time to clean up after your pet. Get The Poop Fairy on the job and let us do all the dirty work. We'll make sure your yard looks pristine year-round and leave you with peace of mind knowing it's all taken care of. Contact us today for more information about our Tulsa pooper scooper services!