Tulsa Dog Waste Removal
Professional Tulsa dog waste removal is becoming increasingly popular as more people recognize the importance of maintaining a clean and healthy environment for their pets, as well as keeping a clean space for humans to enjoy. Professional dog waste removal services take the hassle out of dealing with your pet's waste. Here at The Poop Fairy, we provide quick and efficient dog waste removal services that help keep your yard and home clean, safe, and sanitary. With our service, you'll never have to worry about the hassle of disposing of pet waste yourself again! We provide weekly, bi-weekly, and monthly service plans to fit your needs.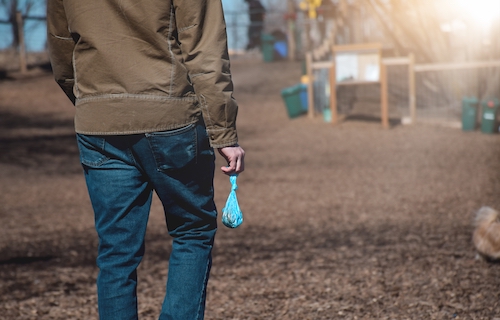 Our team of fairies is committed to providing a quality service that you can rely on. We use top-of-the-line pet waste removal equipment, and our experienced staff always make sure that your yard is left clean and free of odor. Plus, we guarantee 100% satisfaction with every job. If you're looking for reliable and professional Tulsa dog waste removal services, look no further than The Poop Fairy. We take care of the dirty job so you don't have to!
Why Dog Waste Removal Is Important
Many people have a misconception that dog waste is a natural part of nature, and it doesn't matter if it's left behind. However, the truth is that pet waste can pose a serious health risk to people, pets, and the environment.
Dog waste can contain harmful bacteria and parasites that can be transmitted to other animals and humans. This can cause serious health issues, including intestinal infections and diseases. In addition, dog waste can contaminate soil and water supplies if it is not disposed of properly. By employing a professional dog waste removal service, these risks can be minimized. Overall, professional Tulsa dog waste removal is an important service that promotes public health and safety, while also making life easier for pet owners.
Tulsa Dog Waste Removal With The Poop Fairy
When you choose The Poop Fairy for your Tulsa dog waste removal, you can expect:
Quick and efficient service
Experienced, trained, and insured staff
Us to take the dog waste with us and dispose of it properly
Choices of flexible, no-contract dog waste removal plans
Our fairies to be friendly and professional with pets and their owners
Options for one-time dog waste removal or regular cleanings
Our work vehicles and uniforms to be clearly marked for safety
A spotless job, and if we miss something- we will come right back!
Don't settle for less when it comes to pet waste removal services! The Poop Fairy is the leading Tulsa dog waste removal service, and we guarantee you will be satisfied with our work. You deserve a break from daily poop pick-up and to enjoy a clean yard. Contact us today to set up a service plan that works best for you. You can also visit our website to learn more about our services and plans. We look forward to helping you keep your yard clean and safe!