Dog Waste Removal in Tulsa, OK
The Poop Fairy provides dog waste removal in Tulsa, OK. Finally, there is a solution to your longtime problem of having dog poop in your yard. The Poop Fairy has come up with an all-inclusive service that will leave your yard clean and ready for family fun without any pesky odors or concerns or accidents. 
Unlike other pet waste removal companies, The Poop Fairy is not a franchise or chain. We are a family of fairies who are passionate about helping Tulsa pet owners fully enjoy their furry friends without any of the downsides of pet ownership.
Because of this, you can expect a top-of-the-line, all-inclusive experience for both you and your pet.
From daily or weekly dog waste removal services to one-time appointments great for special events, we are ready to serve you! At The Poop Fairy, we will work with you to create a pet waste removal plan that fits both your needs and your budget.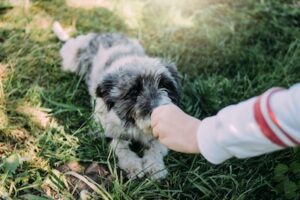 Keep reading to learn more about the Tulsa dog waste removal services available through The Poop Fairy! 
Dog Waste Removal

, Tulsa, OK

Pooper Scooper Service, Tulsa, OK

Weekly Dog Poop Cleanup

, Tulsa, OK

One-Time Dog Poop Removal, Tulsa, OK

Pet Waste Management Company, Tulsa, OK

Residential Dog Poop Removal, Tulsa, OK

Commercial Dog Poop Removal, Tulsa, OK
Phone Number
(918) 984-0766
Address
8086 S. Yale Ave, Suite 127
Tulsa, OK 74136
Directions
Click here for driving directions.
Hours of Operation
Services are available 24/7 on an appointment-only basis. Contact The Poop Fairy team to schedule your appointment today!
Dog Waste Removal in Tulsa, OK – Proudly Serving 
 Tulsa, Bixby, Glenpool, Jenks, Sapulpa, and Broken Arrow.