Dog Waste Removal in Glenpool, OK
The Poop Fairy provides dog waste removal in Glenpool, OK. When you need to clean up after your furry friend, we've got the solution that's just right for YOU! We offer a wide range of services from daily waste removal sessions and one-time appointments perfect for upcoming special events. 
We work with you to determine the type of pet cleanup service plan that suits both your budget and your schedule. By cleaning up your pet waste regularly, you can protect the health of your family, your pets, and your lawn! What more could you ask for?! 
At The Poop Fairy, we are proud to be a locally-owned business, not a franchise like other pet waste removal companies. Because of this, our team has a true passion for helping fellow Tulsans enjoy their pets to the fullest extent by removing the tedious task of waste removal.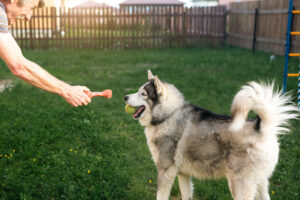 Keep reading to learn more about the Glenpool dog waste removal services available through The Poop Fairy! 
Dog Waste Removal

, Glenpool, OK

Commercial Dog Poop Removal, Glenpool, OK

Residential Dog Poop Removal

, Glenpool, OK

Pooper Scooper Service, Glenpool, OK

Weekly Dog Poop Cleanup, Glenpool, OK

One-Time Dog Poop Removal, Glenpool, OK

Pet Waste Management Company, Glenpool, OK
Phone Number
(918) 984-0766
Address
8086 S. Yale Ave, Suite 127
Tulsa, OK 74136
Directions
Click here for driving directions.
Hours of Operation
Services are available 24/7 on an appointment-only basis. Contact The Poop Fairy team to schedule your appointment today!
Dog Waste Removal in Glenpool, OK – Proudly Serving 
Glenpool, Jenks, Sapulpa, Broken Arrow, Tulsa, and Bixby.